My name is Julie Sheppard,  I am a trainer who understands the emotions linked to your dog's behaviour. I specialise in 1-2-1 training and small group classes in Paignton, South Devon. My approach to training is relaxed, friendly, fun, and completely force-free. I offer advice, support, and progressive training plans to create a partnership between you and your dog promoting trust and increasing your bond.
We expect a lot from our dogs in terms of 'acceptable' behaviour, but they need help and support from us to learn how we would like them to behave and sometimes they also just need the opportunity to be a dog.
Force-Free or Rewards Based training is a very effective way to train your dog.  It is founded in behavioural science making it easier for your dog to learn and remember by using what your dog likes (rewards) and repetition. Force-Free trainers do not believe in the use of harsh corrections or harmful equipment for training your dog.
Training force-free has the following benefits:
It builds trust between the dog and his human family
It helps the dog to live happily with humans
It reduces stress allowing the dog to be confident, calm and feel safe
Dogs enjoy the training and want to do it so they learn faster
The behaviours we teach become automatic (e.g., recall, walking at heel, sitting)
Make sure you choose a qualified and accredited dog trainer.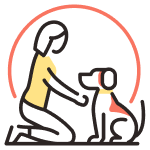 I  offer a range of services for 1-2-1 Training and Group Classes.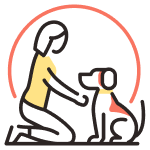 Book a free 15 minute call to find your  ideal training plan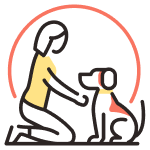 Pawfect Fit Dog Training I have just finished my third lesson with Julie. I wanted Freddie my Cocker spaniel to be better at recalling and walking on the lead. Each lesson progressed from simple commands and actions to more complex. After each session, I was sent a very useful summary of what was taught to jog my memory. Jules was also happy to answer the phone when I had a query. He is a lot better now and I have the confidence and knowledge to continue his training. I would highly recommend Pawfect Fit Dog Training if you want your pet's behaviour to be better.
We attended Julie's classes as we wanted our cockapoo Reggie to stop pulling on the lead as our walks were not very enjoyable. Thanks to the guidance and detailed instructions he has massively improved. Julie gave us weekly email updates to practice at home and walks are so much better now.
We have also been practising recall and have been given clear information and help to proceed with his training. Julie is very patient and offers great advice, Reggie was the star of the class 🙂
I cannot recommend Julie at Pawfect Fit Dog Training enough. We wanted help with our puppy with a number of issues, behaviour, recall, loose lead walking, and jumping up. Not only did it not take long for her to make a huge difference, but we can now do a few tricks too!! Having a better-behaved dog makes life so much easier!!
Julie was extremely helpful with Bertie's recall and separation anxiety. Each session was followed up with detailed instructions and plans for us to follow. She is very professional and her help was invaluable. Bertie was so pleased to see her each time. Being able to contact her any time with a query between visits was most reassuring. Highly recommended.
Julie is a fantastic trainer! We've come such a long way with our rescue puppy, Betty, thanks to Julie's patient and expert, training. It's really flexible to fit in with our busy lives and we always get a useful follow up report after each session to remind us of what we need to be doing. Julie's knowledge together with her calm, professional and non-judgmental approach have made puppy training so enjoyable and successful. Thank you!
Thank you so much for all of your help with Roxy! It has been the best experience and has guided us so much with our first pup. We couldn't have done this without you!
Julie's advice and guidance has been invaluable to us as new puppy owners. We couldn't have asked for a nicer person to help us with our puppy journey, she put us at ease and answered all of our many questions about being a new pup parent! Julie is incredibly informative and fantastic at showing you training techniques without overwhelming you (as there is a lot to learn!). We would highly recommend her. We couldn't have done this without your help, we now have a very well behaved and happy puppy! See you in January for follow on puppy classes. Thank you Julie!
Thanks so much, it really has been a pleasure working with you, we honestly couldn't have asked for a better trainer and mentor. We won't hesitate to add extra sessions as and when needed. Your support really has been above and beyond, and amazing value for money. I also want to thank you for being so reassuring and answering thoroughly my many emails, it meant a lot and helped me stick to the training.